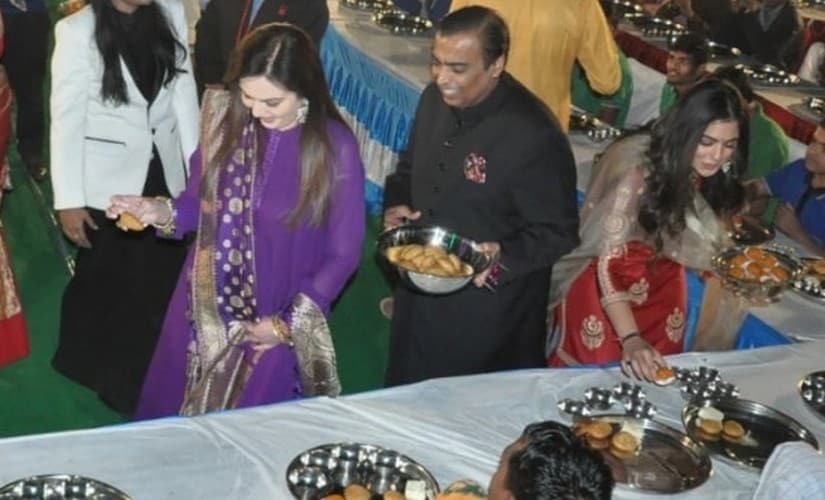 In this Friday, Nov. 30, 2018 photo, Chairman of Reliance Industries Mukesh Ambani, center, his wife Nita Ambani, back left, daughter Isha Ambani, right, son Anant Ambani and Radhika Merchant, front left, arrive to attend the wedding of Bollywood actress Priyanka Chopra and Nick Jonas in Jodhpur, India.
The Ambanis and Piramals welcomed their high-profile guests in Udaipur as they kicked off children Isha and Anand's pre-wedding festivities. Mukesh and Nita Ambani's daughter, Isha Ambani, who will be tying the knot with Anand Piramal on December 12, is celebrating her pre-wedding festivities in Udaipur on December 8 and 9. Some are also expected to arrive tomorrow, the final day of the pre-wedding party. Two of India's biggest business families are hosting their guests in the City of Lakes over the weekend, before the couple take their vows in a traditional ceremony in Mumbai on Wednesday.The families will host a Maha Aarti and Sangeet ceremony today.Here's a look at the who's who of the world who have landed in the city for the celebrations.
Bollywood stars, including Priyanka Chopra and husband Nick Jonas, Salman Khan, Katrina Kaif, Shah Rukh Khan, Varun Dhawan and Akshay Kumar, among others, have also arrived for the festivities. The Ambani's, in a statement, said, the "Anna Seva" would be held from December 7-10.
More news: 'Marvel's Spider-Man' Was Completely Snubbed At The Game Awards 2018
Maharshtra's Chief Minister Devendra Fadnavis arrives at the Udaipur airport for the Isha Ambani-Anand Piramal pre-wedding celebrations.
A press release by from the Ambani family said that as part of the "Anna Seva", 5100 persons were served food.
Sharing anything on social media and WhatsApp is a strict no. One of the biggest artistes of all time, Beyonce, is scheduled to perform at the sangeet ceremony. The entrance at the venue features a pink backdrop with Isha and Anand's initials.
More news: Milly Plans to Take Legal Action Against Epic Games for Fortnite Dance
Guests are being flown in on 100 chartered flights for the three-day festivities including sangeet, dance and pre-wedding functions. It was followed by a private party in May.
Isha Ambani and Anand Piramal are set to get married in Mumbai on 12 December.
More news: Free Agent Prize Patrick Corbin Signs Six-Year Deal with Washington Nationals