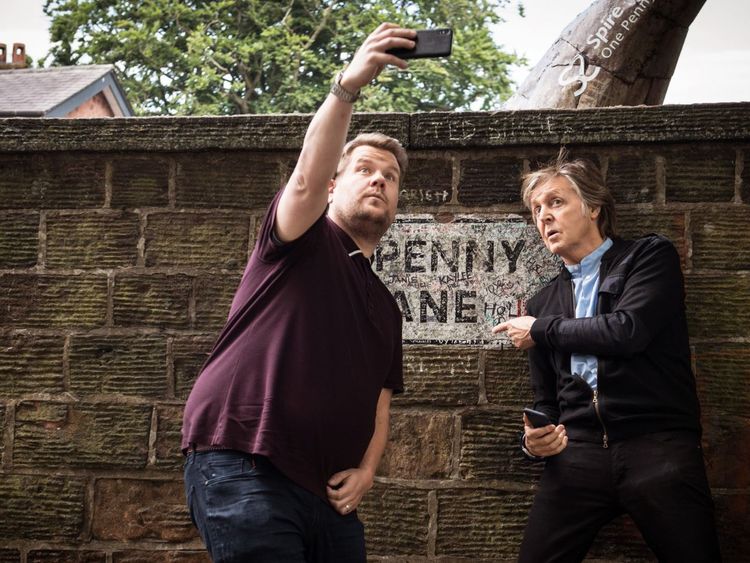 Dave Grohl and Foo Fighters guested on The Late Late Show, and during the interview segment, James Corden asked Grohl about his relationship to Paul McCartney.
The 76-year-old former Beatle delighted viewers with a tour around his hometown of Liverpool along with an iconic trip to Penny Lane.
During the film, the pair also visit one of Sir Paul's childhood homes, go to Penny Lane, and pop into a pub for an impromptu performance. I felt so bad when it came out in the press - "Foo Fighters had a awful time, they hated the whole fucking thing".
More news: Supreme Court rules that internet sales can be taxed by states
The Late Late Show host then began to cry and revealed that his grandfather and father once sat him down and played him Let It Be.
Corden chokes up as McCartney explains how a dream about his late mother led to the lyrics for "Let It Be". "I can remember my granddad who's a musician and my dad sitting me down and saying, "We're going to play you the best song that you've ever heard" and I remember them playing me that", the British star emotionally recalled. "How that can do that to you", replied McCartney. "I'll never ever forget it".
"If my granddad was here right now, he'd get an absolute kick out of this", Corden tells McCartney, reminiscing on hearing the song back when he was young.
More news: Nets trading for Dwight Howard in National Basketball Association stunner
He agreed, saying: "We expected it to last 10 years, but it keeps going on, and on, and on".
"That's been one of the odd things", McCartney, around the five-minute mark in the video up top, told Corden of the lasting impact of the Beatles' message.
He then took the comedian to Liverpool's famous Philharmonic Dining Rooms pub - where James worked behind the bar serving locals, while Paul performed a set including Love Me Do and Hey Jude.
More news: North Korea expected to begin transferring remains of U.S. troops soon