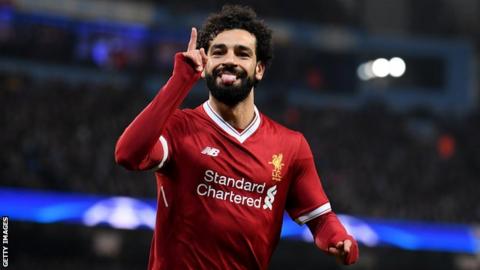 The Egyptian netted for the 40th time this season on Saturday with a delightful looped header over the goalkeeper as the Reds chalked up a comfortable 3-0 win against Bournemouth at Anfield.
Manchester City may have been crowned Premier League champions yesterday but fans of Liverpool have also had plenty to shout about this year.
He is of course leading the race to win the Premier League golden boot, but refused to be drawn on the situation surrounding Harry Kane's "goal" against Stoke, which was accredited to him on appeal, despite little evidence to suggest that he actually touched the ball.
Salah scored the penalty that won Egypt qualification to their first World Cup in 28 years, and Mido went so far to say the Liverpool No.11 is their national team's greatest player ever.
More news: Dark Souls: Remastered For Nintendo Switch Delayed
"I am happy to have this feeling".
"It's like that but in the end we play as a team". Salah also broke the record for scoring in the most Premier League games in a campaign, set by Cristiano Ronaldo in 2007/08 and later matched by Robin van Persie in 2012/13.
(Starts laughing) I don't want to say anything about that!
"In the end they said it's his (Kane's) goal so it's finished for me". You feel all the team want to support you and want to help you score goals.
More news: Pence says Russian Federation "on wrong side of war"
Although Salah stated he would rather win the Champions League, he still has his eyes on winning both accolades, with Salah admitting that winning the Golden Boot is still on his mind.
"To win the Champions League", Salah said when asked if he preferred to win the competition or an individual award. Now we still have four games and they (Tottenham) have five or six games so I have to think about my games and we see.
"Liverpool then have a home game against Stoke and I would encourage Klopp to rest his front three for that one and have them ready for what will be a hard game at the Stadio Olympico in Rome".
More news: IPL, RCB vs RR: Mc Cullum departs, RCB lose 1st wicket