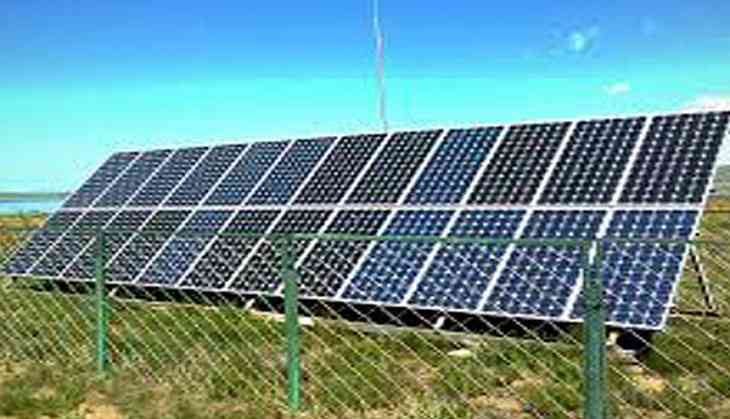 The Indian government, in a document named 'Delhi Solar Agenda, ' said the founding conference, co-chaired by Prime Minister Narendra Modi and visiting French President Emmanuel Macron with the participation of more than 120 representatives, expressed commitment of founding states to a clean and healthy world for the current generation and beyond, rooted in sustainable lifestyles.
Speaking to reporters later, T S Tirumurti, secretary (economic relations), Ministry of External Affairs, said that the solar technology mission announced by Modi was a "path breaking initiative" with an global focus to "take the lead internationally in solar energy development".
For achieving the ISA target of over 1,000 GW of solar generation capacity and mobilisation of investment of over Dollars 1 trillion by 2030, Modi called for concessional financing and less-risky funds being made available for such projects.
"This is the way we will be able to achieve what ancient monks used to pray for when they said "Tamaso ma Jyatirgamaya" which means "From darkness, lead me to light".
More news: Government to Set Out 'Quantum Leap' Abortion Reform
Mr Modi also shared his 10 points of Actions to deal with the threat of climate change vis-a-vis making solar energy a true catalyst for the future roadmap.
France's worldwide development agency was committing an additional $700mn to solar energy by 2022, taking its total investment in financing solar projects in ISA member countries to $1bn, French President Emmanuel Macron said in his inaugural speech.
PM Modi also suggested looking back to the Vedas in a bid to combat climate change. "We came to ask the topics on the table and give access to solar energy in the world". France and India are likely to sign a technology transfer agreement on solar energy at the ISA summit.
These countries have "the paradox of being the sunniest in the world while enjoying the least solar energy", said Ségolène Royal, a former French minister in India as a special envoy for the alliance.
More news: What to know about Women's Day
Modi had in a speech at London's Wembley Stadium in 2015 proposed the idea of an inter-governmental organisation comprising of 121 countries, which lie either completely or partly between the two tropics, with an aim to promote solar energy.
President Macron said that countries represented at ISA represent three-fourths of the world population. The French National Institute for Solar Energy would contribute in providing easier access to solar technologies and technology transfers, he said.
But others like the "solar mamas" - women who trained to be solar technicians - made a decision to act, Macron said, because "they decided it was good for them, their children and grandchildren". "Of this, we have already met a target of 20 GW of installed solar power".
"It is common good and it is for the development of all countries", he said. The ISA is the first global treaty-based organisation headquartered in India. We will generate 175 GW of electricity from renewable sources of energy by 2022, of which, 100 GW will be from solar power. Of the 121 countries associated with ISA, 61 have joined the alliance and 32 have ratified the framework agreement.
More news: Richard Sherman meets with 49ers, signals free-agent tour has just begun
"We have to make sure that a better and cost-effective solar technology is available to all", Modi said.